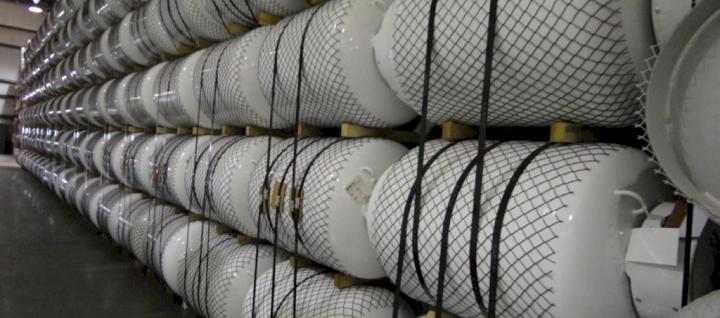 Propane
At Manchester Tank, we take our commitment to the environment seriously. We partner with our customers in their efforts to reduce the environmental footprint by providing convenient, economical, efficient and environmentally-friendly pressure vessels for the storage and transport of propane.
Manchester Tank continues to be an innovator in the storage and transport of propane. One of the most impactful contributions to the propane industry was the adoption of the Overfill Prevention Device (OPD) in 2002. Manchester Tank's President and CEO from 1971-1999, Darrel Reifschneider guided the research, development and approval of the OPD. Due to Mr. Reifschneider's continued efforts to improve quality, he is also responsible for Manchester Tank becoming the first manufacturer to use powder coat paint on several tank designs. The electro-statically applied powder paint provides a smooth, almost chip proof porcelain appliance finish for easy maintenance and less corrosion and is commonly used in our production today.
Dedicated to a long tradition of excellence and committed to "Finding a Better Way", the Manchester Tank team actively supports the National Propane Gas Association's (NPGA) regulations, codes and standards. As a member of the NPGA, it is our mission is to ensure that the industry standards are met safely.
The U.S. Department of Transportation (DOT) controls the jurisdiction of the transportation of hazardous goods in commerce in the United States. Manchester Tank cylinders conform with strict compliance to DOT specifications 4BA, 4BW, and 4E. These specifications are in the U.S. Code of Federal Regulations (CFR) - Title 49 (Transportation). In addition, most cylinders conform and are approved under Transport Canada specifications 4BAM, 4BWM, and 4EM, and are regulated by the Compressed Gas Association (CGA). 
Manchester Tank's propane storage tanks are designed and constructed in accordance with the American Society of Mechanical Engineers (ASME) Section VIII Division I Code latest edition and are registered with the National Board of Boiler and Pressure Vessel Inspectors. Most tanks are also approved for use in Canada (CRN).
Products