History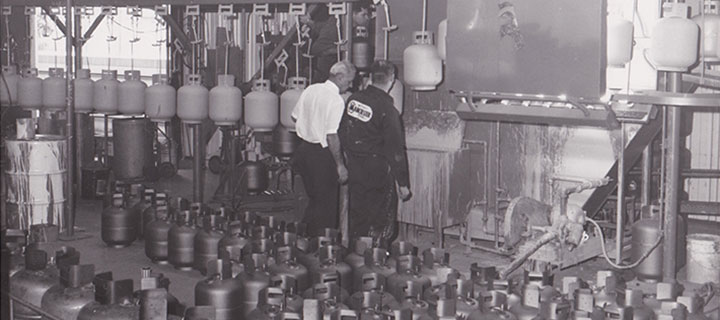 While looking forward to a promising future, Manchester Tank takes great pride in its past accomplishments. We appreciate our loyal customers and look forward to developing new relationships as we continue building for the future. Here's a glance at Manchester Tank's rich history:
1940s
1945: Manchester Tank was formed as Manchester Welding and Fabricating Company of Los Angeles, California, the original building was located on Manchester Avenue. The only product manufactured at that time was a five gallon vertical tank for storage of butane and propane primarily used by mobile homes in trailer parks. During the first year of operation, Manchester Tank employed seven people and manufactured about 200 tanks per week. 
1946–47: Manchester Tank was purchased by the Reifschneider family in 1946. The business moved the next year to Lynwood, California, which became the corporate offices and factory until 1992.
1950s 
1953: Manchester Tank was incorporated in 1953. Over the next ten years more property was acquired, increasing the manufacturing square footage enabling Manchester Tank to add production lines for forklift tanks, motor fuel tanks, tractor tanks, weed burners and hand burners. 
1960s
1966: Manchester Tank expanded its sales efforts nationwide, building a new plant in Lithonia, Georgia to capture sales opportunities in the eastern part of the United States.
1970s 
1971: Manchester Tank entered the air receiver market with its purchase of Western Tank and Steel Company in Lubbock, Texas.
1973: Manchester Tank purchased a plant in Elkhart, Indiana to serve the large recreational vehicle and barbecue manufacturers in the Midwest.
1980s
1983: Manchester Tank entered the Canadian market, constructing a plant in Tillsonburg, Ontario. This location serves a distribution center today.
1987: Manchester Tank built a plant in Hannibal, Missouri dedicated to manufacturing propane tanks and air receivers.
1989: Manchester Tank opened a state of the art 200 lb. / 420 lb. cylinder plant in Petersburg, Virginia to supply customers in the eastern United States. Manchester became the first in the industry to install a powder paint system, named "Armor Clad".
1990s
1990: Manchester Tank acquired Buckeye Boiler Company, a producer of industrial air receivers and other pressure vessels becoming a dominant leader in the OEM air tank business. The Company also acquired General Processing Corporation, Crossville, Tennessee, a manufacturer of a full line of propane cylinders, specifically LP gas grill cylinders and water heaters.
1992–93: Manchester Tank closed the Lynwood, California plant operation and moved the corporate headquarters to Brentwood, Tennessee.
1995: Manchester Tank entered Australia, New Zealand and the Pacific Rim markets with its acquisition of McMilan's, an Australian manufacturer of the LP gas cylinders and tanks.
1999: Manchester Tank was acquired by McWane, Inc. Birmingham, Alabama.
2000s
2000: Manchester Tank purchased Brunner Engineering & Manufacturing with operations in Bedford, Indiana and Quincy, Illinois, a manufacturer of industrial air receiver, recreational vehicle, autogas and HVAC tanks.
2003: Manchester Tank moved its corporate headquarters to a neighboring city, Franklin, Tennessee where it's currently located today.
2010s
2010: Manchester Tank entered the South American market with its acquisition of Cemcogas SA, a cylinder manufacturing and refurbishing operation, with plant locations in Maipu (area of Santiago, Chili) and Concon (Valparaiso Province).
2017: Manchester Tank entered the aboveground and underground ASME domestic horizontal propane tank market, adding to the company's existing line of propane tanks and cylinders. The company now offers a full line of propane tanks and cylinders ranging in sizes up to 1,000 gallons.
In the same year, Darrel Reifschneider, Manchester Tank's former president (1972 to 1999), was inducted into the 2017 LP Gas Hall of Fame. Mr. Reifschneider was instrumental in bringing the overfill protection device to market as a solution to overfilled cylinders.
2020s
2020: Manchester Tank expanded its production, building a new plant in Campbellsville, KY. The operation is dedicated to manufacturing ASME domestic horizontal propane tanks, industrial air receivers and other pressure vessels.
Today
As we look forward to the future and 75 years in business, Manchester Tank remains dedicated to its long tradition of excellence and is committed to "Finding a Better Way" through a culture of continuous improvement. Manchester Tank's vision is to create value by meeting and exceeding customer expectations, continuously improving safety, quality and cost and being the best company to work for.