Manchester Tank Quincy Holds 3rd Annual Safety Day
May 31, 2019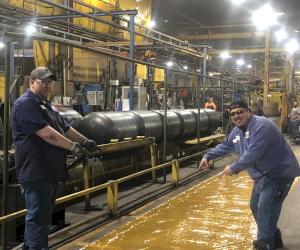 Manchester Tank and Equipment held its third Annual Safety Day Celebration on Wednesday, May 22nd, 2019.  Manchester Tank is committed to protecting the Health and Safety of its team members, contractors, vendors, as well as protecting the Environment.
During Safety Day, all production, shipping and receiving activities was suspended and the entire day was dedicated to highlighting the importance of building safe quality products, and creating a safe work environment for our employees.
We will also had an Electronic Waste, (E-Waste) Collection for our employees to bring in old E-Waste to have it safely recycled.
Several vendors were on site participating in the Safety Day activities, including Blessing Hospital, S.J. Smith, Lincoln Welding, Aramark Uniform Services, Getz Fire Systems, Midwest Professional Investigations for an Active Shooter Presentation, Tri-Township Fire Department and Hy-Vee Broadway Store.